Product Description
Kangaroo Keeper Handbag Organizer
2 Kangaroo Keeper bags

Small bag measures 9 1/4"L x 2 1/2" W x 7 1/2" deep

Large bag measures 13"L x 2 1/2"W x 17 3/4" deep

Small bag features 14 pockets and key ring

Large bag features 17 pockets and key ring

Small bag fits inside the large bag for further organization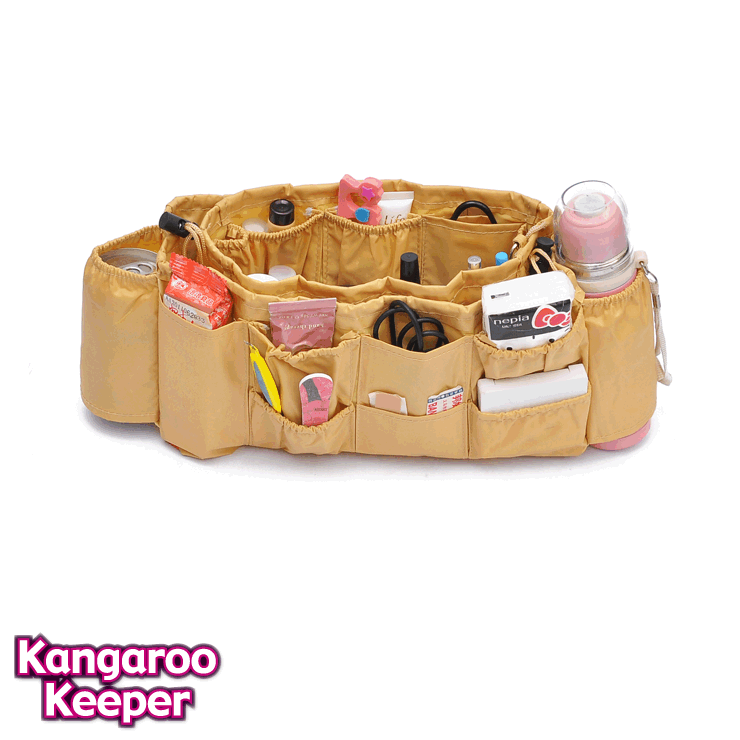 Designed To Organize A Messy Bag And Keep All Beloved Belongings Within Reach, The Kangaroo Keeper Instantly And Effectively Keeps Handbags In Working Order.
Tidying Up Easily And Conveniently, The Nifty Piece Is Every Busy Bag's Best Friend. Simply Insert The Organizing bag Into Whichever Bag Needs A Clean-Up, Then Fill The Keeper's Multiple Pockets With Essentials.
The Kangaroo Keeper Bag Organizer Enables You To Organize Your Purse In A Jiffy. Its Many Compartments Allow For A Neat And Safe Storage Of Belongings That You Would Normally Carry In Your Larger Bags.
The Unique Design Of The Organizers Lets You Switch Easily Between Any Medium-Sized Purse And Your Largest Bag.
The Kangaroo Keeper Bag Organizers Are Perfect For The Following:
Travelers: Fits Perfectly Into Your Luggage

Workout/Pool/Beach: Drop The Kangaroo Keeper Into Your Duffel Bag

New Mothers: Just Place The Kangaroo Keeper Into Your Bag

Students: Place The Kangaroo Keeper In Your Knapsack Or Briefcase And Keep Everything Organized

Business Women: Place Kangaroo Keepers In Your Briefcase.
Additional Information
| | |
| --- | --- |
| SKU | 518 |
| Color | No |
| Item Condition | No |
| Brands | No |
| Delivery Time | 1 To 3 Days |
| Handbag Wallet Type | Diaper Bag |
| Style | Others |
| Handbags Wallets Material | Others |
Reviews