Product Description
Nicer Dicer Plus Food Chopping Machine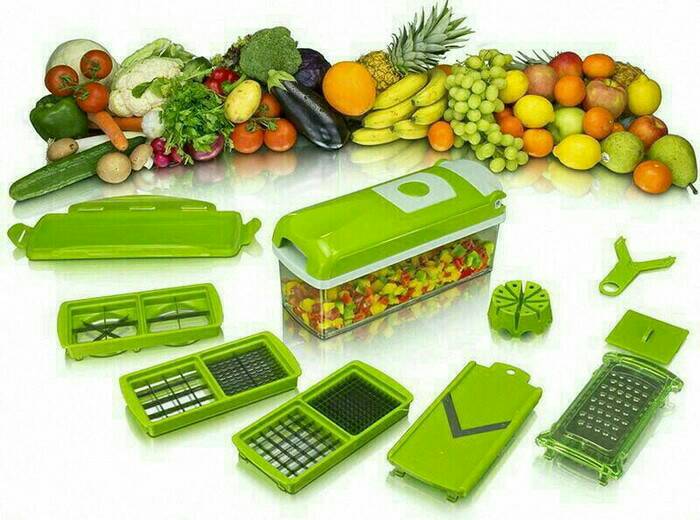 The Nicer Dicer Plus multi-chopper set has everything you need for cutting, dicing, grating, and slicing! Chop onions, zucchini, peppers, celery, tomatoes, hard boiled eggs, cheese, and fruits–then watch as the ingredients transfer instantly from the cutting surface into the bowl below. There's no hassle, and no mess! Nicer Dicer with the Plus is no longer a problem – you have everything in one handy set! Simple and space saving as it gets.
5 different inserts with 11 different ways to cut

Cut into cubes or sticks in 3 different sizes

Slices in 2 different thicknesses

Cut in to quarters, eighths and wedges

Long- lasting super- sharp stainless steel blades

Extra sharp grater

Mandolin slicer with safety food holder
Nicer Dicer Plus
If you're sick and tired of under-taking the tedious tasks of grating, slicing and dicing, As Seen On TV's got the solution for you. Introducing the Nicer Multi Slicer Dicer Plus! It takes the cutting convenience of the previous Nicer Dicer and takes it to a whole new level with its huge 1500ml capacity. Cleaning is also easy with the removable top part that has a self-cleaning function. Slice, dice, cut, julienne, cube, wedge, quarter, grate… Believe us, the Nicer Multi Slicer Dicer Plus can do it all!
NICER DICER PLUS BENEFITS:
Removable top part with self cleaning function.

Fresh keeping lid for container 1,500 ml.

Easy and Useful For Every Meal.

Professional and Consistent Results Every Time .

Saves Your Time and Money.

Safe for kid's tool.

Safe to Use – Your Fingers Never Touch the Blades.

Easy Clean Up – Dishwasher Safe.

Food Stays Cleaner – Less Handling
HELPS YOU TO: ENJOY YOUR MEALS, even if you are on a DIET (Raw, Vegan, Low Carb, Gluten-Free, No-Wheat, Paleo, etc.), REPLACE HIGH CARB Pasta or Noodles with healthy and colorful veggie ones, Get your picky CHILDREN and FAMILY to EAT plenty of healthy VEGETABLES in disguise, SAVE TIME from slicing, dicing and conventional julienning methods, CRAVE for VEGETABLES ! Your veggies will look mouth-watering and still keep nutrients and minerals alive.

SAFE DURABLE AND EASY TO USE: Ebook of Detailed usage instruction, BPA free ABS plastic and 201 stainless steel and blade of 0.5mm/ 0.8mm, Superior plastic and blade to avoide breaking while in use, Dishwasher safe, It fits in your hand with little or no pressure, includes a built in finger guard for further protection and is easy to store.
It is extremely
USER FRIENDLY
PREMIUM QUALITY - The Premium V Slicer is molded using hand selected HIGH QUALITY ABS plastic for a lightweight feel, fitted with
TOP-QUALITY STAINLESS STEEL
Japanese sturdy blades for the sharpest and quickest slice and chop. This simple-yet-unparalleled award winning tool is used by everyone from stay-at-home moms to professional chefs. Don't forget to also buy this as a PERFECT GIFT for your family and friends.
VERSATILITY: It chops, dices, slices cuts shreds veggetti, cheese, potato, mandolin food, french fries, pepper, Onions, cabbage, kitchen master slicer dicers,onion slices, veggie cutter, master slicer, onion cutter, second slicer, vegetable cutter, onion slicer, one second slicer, progressive chopper, nicer dicer fusion, food choppers, mandolin food slicer, cutting tools, kitchen tool set food shape cutters, prep work onion chopper, chop magic, subway salad chopper,
SET OF 12 IN 1 Tools For Safer, Quicker, Cheaper Meal Preparation:In detail: 1 cutting-top with integrated pin grid, 1 cutting-base, 1 transparent collector (capacity 1,500 ml), Cover for holding a fresh collection container, 2 blades 1 knife used for quarters or eighths, 1 plug-cutting punch for eighth, 1 part-cover for all blade inserts, 1 professional peeler
Package contents (also shown in pictures)
1 x Removable top part with self cleaning function.
1 x Cutting base.
1 x 1,500 ml container with measurements.
1 x Fresh keeping lid for container.
1 x Dual blade for cutting ¼" x ¼" or ½" x ½ "cubes.
1 x Dual blade for cutting ¾" x ¾" or ¼" x 1 ½ "cubes.
1 x Dual wedging blade (4 pieces or 8 pieces).
1 x Cutting stamp for top part.
1 x Partial blade cover.
1 x Slicer with blade protector.
1 x Food holder for slicer.
1 x Greater with protective cover.
What more can you ask for?
Nicer Multi Slicer Dicer Plus features a long lasting, super sharp stainless steel blades that are rust resistant, and the extra sharp grater helps to slice your food nicely. Its mandolin slicer comes with a safety food holder to prevent unwanted accidents from happening in the kitchen.
Nicer Multi Slicer Dicer Plus shortens the cooking time from start of preparation to serving the meal tremendously. Here's a rundown to what the Nicer Multi Slicer Dicer Plus can do for you: slice in 2 different thicknesses, cut into quarters, eights and wedges, cuts in 11 different ways, cubes and sticks in 3 different size.
The list just goes on and on! So why must you not have the Nicer Multi Slicer Dicer Plus!
Additional Information
| | |
| --- | --- |
| SKU | 423 |
| Clothing Size | No |
| Color | No |
| Size | No |
| Compatible Phone Models | No |
| Delivery Time | 1 To 3 Days |
| Item Condition | New |
| Brands | Others |
| Operating System | No |
| item dimension(LWH) | No |
| Gender | No |
Reviews